How the Avengers are supposed to look
Marvel movie fans don't have anything on Marvel comics fans. Aficionados of superhero cinema have only really been paying attention since 2008's Iron Man, but these live-action versions are just a screen-friendly shadow of their ink-and-paper origins, with movie costumes that don't always do their originals justice. Our design team collaborated with cosplay photographers to highlight some of the major ways in which the MCU's Avengers differ from their comics counterparts and illustrate how they'd look if they stayed true to the comics—along with some of the ways they're right on the money.
Hawkeye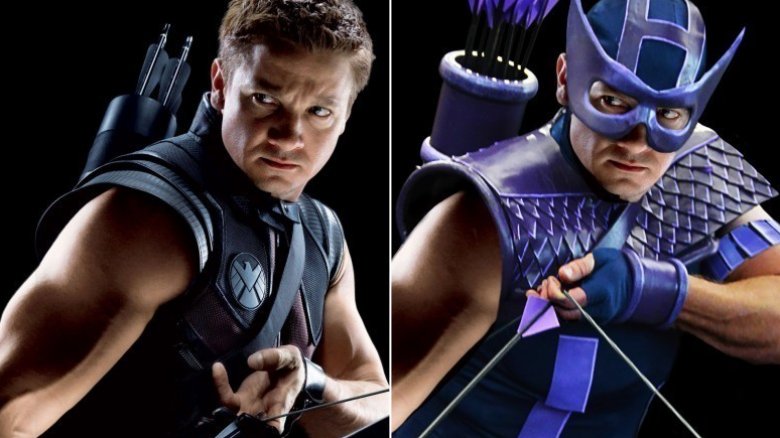 If there's one on-screen Avenger who looks significantly different from his comic counterpart, it's Hawkeye. For the big screen, Clint Barton dropped his garish pointy mask and uniform for a more tactical look. The two Marvel universes converged a bit in 2012, when Hawkeye's comic costume was redesigned to look more like the film's version, and less like a scaly, purple Wolverine. There's a reason we never saw that old-school mask on the big screen, either in Avengers or X-Men: it's ridiculous.
Falcon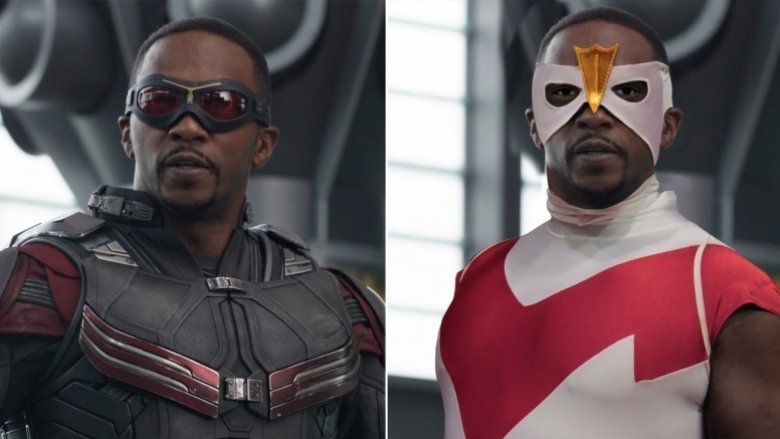 Equally unrecognizable is Falcon, who couldn't possibly be more different in the MCU than he is in the comics. It's an over-the-top superhero costume: red and white, with enormous red wings and a plunging neckline that leaves a whole lot of unprotected bare chest. Top it off with a real pet Falcon and you have comics at their most ridiculous. MCU Falcon is a guy in army clothes and a set of highly-advanced, technical wings. Goggles look a whole lot cooler than that white facemask anyhow.
Thor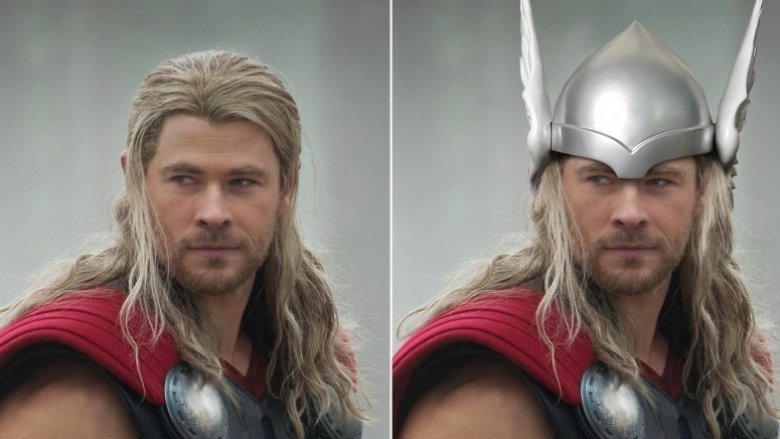 When Thor first appeared in 1962, he was decked out in the finest pseudo-Norse regalia, including the largest wings you've ever seen on a helmet, and kneepads that would make a goalie blush. Strangest of all, however, are the six weird discs that line the front of Thor's tunic, which are so iconic that they've stuck with Thor through many different costume changes, and even appear on his movie costume…even though no one's really sure what they do. Movie Thor only occasionally dons the winged helmet…
Scarlet Witch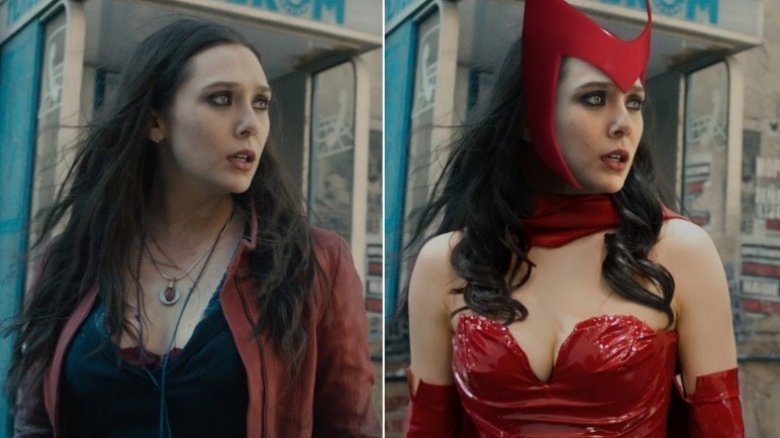 When the color of your costume is in your name, you can't really make too many wardrobe changes, but the MCU fabricated a far less revealing costume for their live-action Scarlet Witch. In the comics, she's in nothing but a low-cut bodysuit and a pointy headdress. Often enough, she's in far less. Fortunately for the MCU's MPAA rating, the on-screen costume of Scarlet Witch is more "autumn fashion collection" than "naughty magician's assistant."
Vision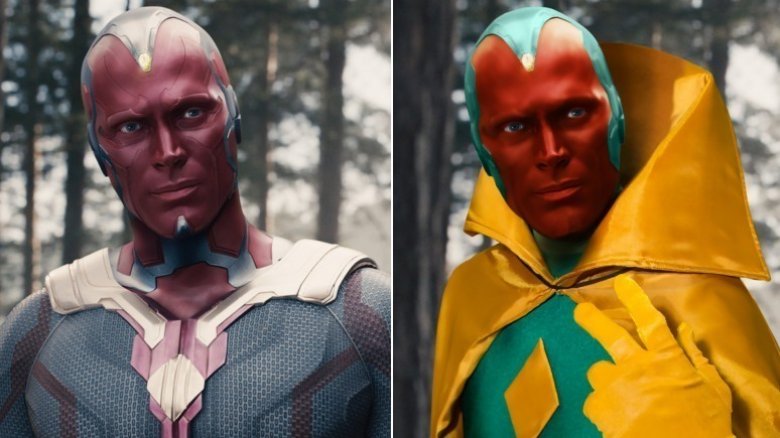 In the pages of Marvel's comics, Vision is an android with a simple design: a bright red face, and a green and yellow costume. The whole thing is punctuated with a solar jewel at the tip of his widow's peak. Movie Vision is distinctly more robot-like, covered with patterns and unmistakably mechanical designs, as though someone wanted folks to be absolutely sure that this guy is a robot. The giant yellow comic book collar? Sadly missing.
Captain America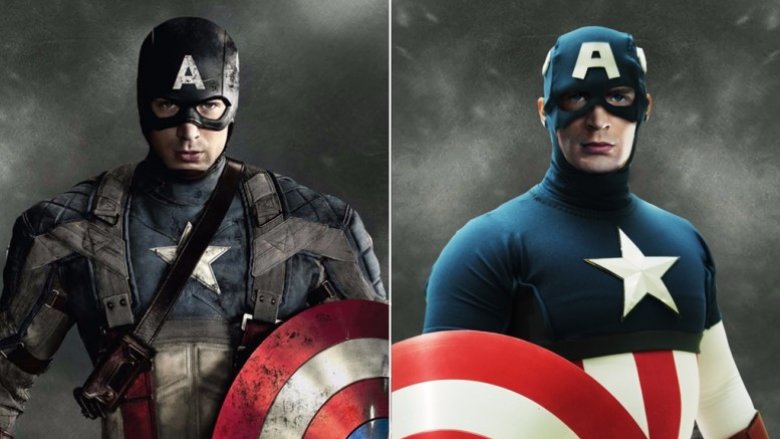 The best thing about MCU Captain America is that he's undeniably classic Cap, even though his costume constantly changes in subtle ways. The most noticeable difference between first appearance Cap and today's Cap is the iconic shield. Originally, it was simply shield-shaped, before it evolved into the circular shield he uses today. Like most MCU costumes, Captain America is more tactical-looking that his comic origins, where he's often drawn wearing a scaly armor. Steve Rogers even simplified it for a while with a "Super Soldier" costume, dropping the flag-like stripes and adopting a new logo. And we've seen that look in the MCU, too.
Ant-Man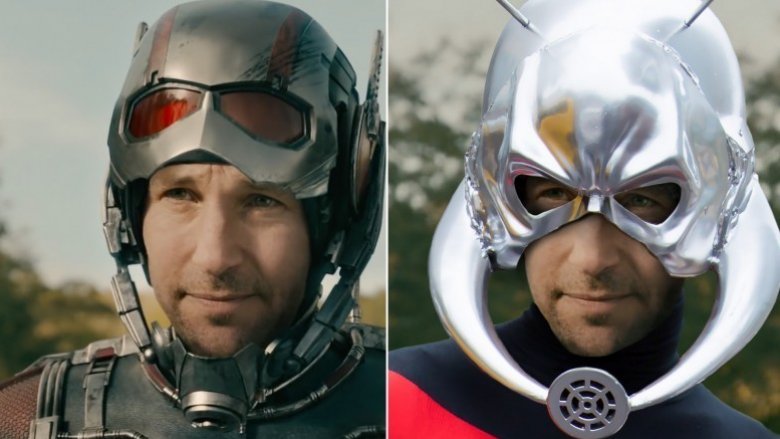 This costume change between the comics and the MCU is a fortunate one. During Ant-Man's early comic appearances, he was not immune to the spandex-and-underwear look, and his ant-controlling helmet was a huge, alien-like, silver dome. Solid for sci-fi, but rough stuff on the big screen. Fortunately, Paul Rudd's hero looks a lot more like he's wearing a high-powered fight suit. And while both helmets give off an ant-like appearance, the MCU version nails it.
War Machine
For the remainder of our feature, we're taking a look at characters whose onscreen looks don't differ substantially enough to warrant the full Photoshop treatment—but they still saw plenty of changes from the page to the screen. We'll start with the character otherwise known as 'gray Iron Man': War Machine, whose look has always been a variation on Tony Stark's unused or modified armor designs. So if the universe has an Iron Man, War Machine is going to be his imperfect twin, probably decked out with more guns and a more serious color scheme. The MCU War Machine is straight out of the pages of the comics, but the later Iron Patriot armor is a different story.
The Hulk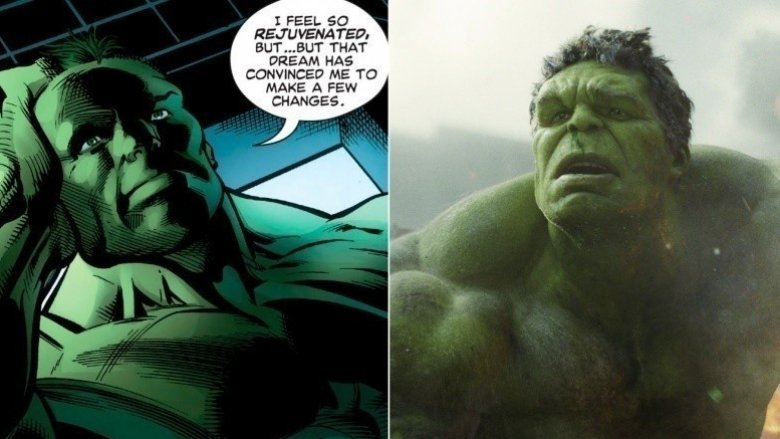 Movie Hulk and comics Hulk are both big green rage monsters, but MCU Hulk took a few giant leaps over the Hulk's original appearance. When Bruce Banner first transformed into the half-naked giant, he was gray. Hulk took on a green hue before long, but occasionally regressed to his gray form, and vacillated wildly between smart and stupid depending on color and whatever writer wanted to leave their mark on Hulk at the time. MCU Hulk is simply "common green Hulk."
Black Panther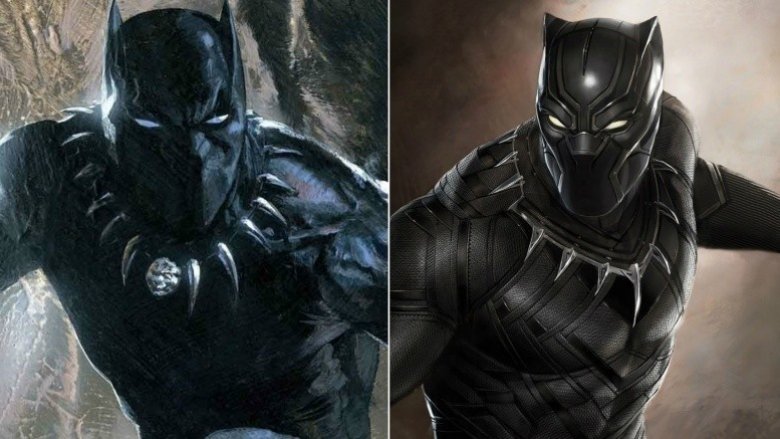 The Wakandan prince's appearance hasn't changed much over the years. It's always been some variation on a black bodysuit. Once in a while, it gets a hole for the mouth and chin, and sometimes, it has a cape, a necklace of teeth, or gold accoutrements. The MCU Panther is much of the same, but sporting a much more tech-looking suit, with patterns containing vibranium protection. Meanwhile, back in the comics, Pather generally keeps it more sleek and organic.
Spider-Man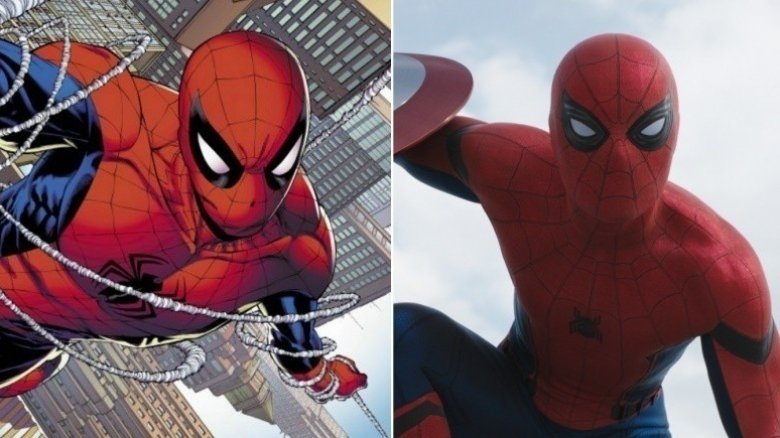 We've lost count of how many big-screen Spider-Men we've had, but this new guy is legit. Since making his appearance in Civil War, Spidey made fanboys and fangirls go crazy with just how comic-accurate his costume is. No raised webbing, no logos that look like they belong on an energy drink; just pure Spider-Man. Still, MCU Spidey seems to be wearing an unusual half-belt. What's that all about? While we had a good time seeing him bounce around in Spider-Man: Homecoming, sadly we didn't dive into the specifics of his belt-related fashion choices. Alas.
Like most other comic heroes, Spidey has worn roughly a million different costumes since his first appearance, but his current MCU costume is a totally fair average of the ol' red and blues.
Iron Man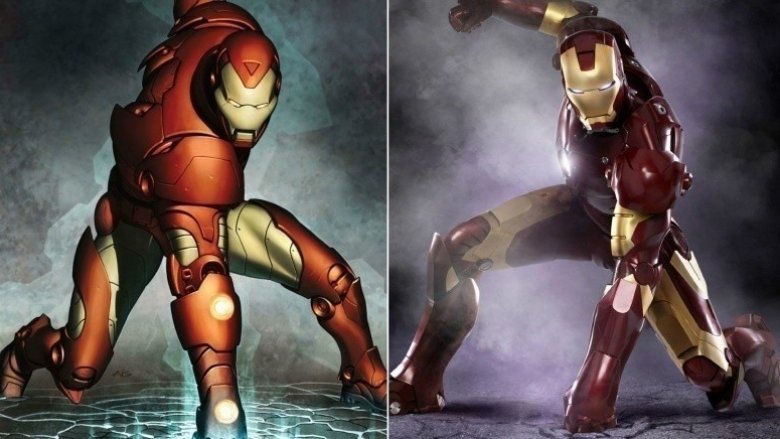 It's fair to say that the Marvel Cinematic Universe's version of Iron Man is pretty much on point. Even though Tony has changed armors more times than we can count, his film armors are a pretty accurate representation of how he looked in the comics through the 2000s. And under the armor? Robert Downey Jr. was born for the role. The MCU skips many decades of earlier, clunkier armors, but they landed on the perfect one for the big screen.
Black Widow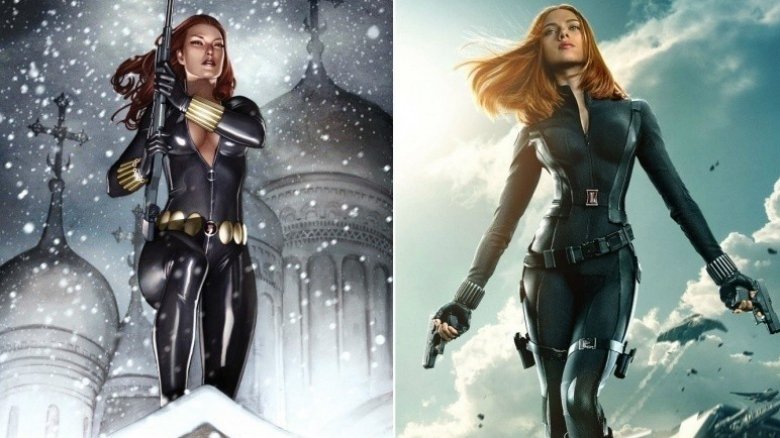 When it comes to the Black Widow's looks between the comics and the screen, there really aren't enough differences to mention. While her comic book outfit has changed subtly over the years, both versions share all the basics: red hair, black bodysuit, and wrist-mounted weapon thingies. In short, they're nearly identical in all the ways that matter. No comic fan's going to look at Scarlett Johansson in an Avengers movie and wonder when Mary Jane got all badass.